How to Engage & Motivate Teams Webinar Summary
Trying to keep your team, or workforce, engaged on a project is no easy feat. Add to this the external factors that organisations face (such as a global pandemic) and this task becomes even more challenging as morale diminishes. In our latest webinar on 'How to Engage & Motivate Teams', our distinguished panel discussed the common challenges that leaders face today and provided their insights on what it takes to keep teams motivated, looking at techniques to implement even when working remotely.
On Thursday, 25th March 2021, we were joined by:
Rebecca Stephens (Chair), principal consultant at Skarbek Associates, writer, lecturer and executive coach.
Dan Simmons, MD of leadership and high-performance-teams consultancy, Metris, following a 16-year career in the military.
Dan Phelan, Board Director of TE Connectivity and Indivior PLC, and former Head of HR and Chief of Staff at GlaxoSmithKline.
Paul Heugh, founder and CEO of Skarbek Associates.
Here are some of the key takeaways from the day:
Encouragement During Uncertainty
Even though businesses have faced challenging times over the last year and for many revenues will be down, some companies, surprisingly perhaps, have actually seen an increase in engagement from their employees since adapting to working from home. For companies such as Indivior and TE Connectivity, engagement surveys reveal that engagement rates amongst employees are at the highest they have ever been. The key to these positive results, according to our panel, is companies prioritising leadership over management. It has been about the quality of relationships and how leaders have gone about building those relationships remotely. Understanding and recognising employees' individual needs and often that of their families too, allowing for flexibility, correct tech enablers, a degree of autonomy and trust, are all major contributors towards successful team engagement. The pandemic has truly destroyed the corporate myth that people cannot work from home – quite clearly, with the correct leadership, tech and communication plan in place, they can not only function at home, but thrive.
At Skarbek, back in March 2020, we rehearsed our business continuity plan to ensure that everyone was ready for whatever might come next. We had a few principles to follow:
Anticipate and meet client needs during this time
Mitigate risk for our team and their families
Minimise the impact for our own business
Guided by these principles, we were able to make decisions ahead of government announcements, aiming to take action as quickly as we could. For example, employees were encouraged to work from home before any government enforcement, to avoid the need to travel on public transport. We established a daily rhythm of meetings – a Teams call every morning at 9.00am – to ensure any issues were raised and cross-over work coordinated. Importantly, though, these meetings also served to create a feeling of connection, that we were still very much a part of a team. It enabled us to align our actions, but also boosted team morale. We spoke openly about the conflicting demands of work and family life and were very happy to be flexible and allow people to manage their time in a way that worked best for them. Continued and regular communication with colleagues, even if only on the screen, proved a huge motivator and boost to team morale.
Empathetic Leadership
Very often, we underinvest in relationships. It is easy to get along with people with whom we have a natural affinity, but what about those with whom we do not? From a leadership point of view, everyone in the team is to be valued. The establishment of strong, thoughtful and caring relationships hugely improves the quality of teamwork and the ability to collectively respond to pressure.
Take time to think about a situation as a whole. Reflect for a moment before making a statement and be mindful of the positioning of communications to ensure that the message will achieve the effect that you want. Get comfortable admitting that sometimes you might be wrong. We're all human! And never act as if you have all of the answers, when very clearly in times of such uncertainty, you can't and don't. Equally, keep a check on your mood. It may be that you are not projecting the best face for those you should be supporting around you. Be sensitive to other people's concerns.
Mood and Energy
A recent report published by Harvard Business School indicated that much is dependent on the mindset of the leader. If leaders are optimistic in their approach, their energy and enthusiasm will ripple through the organisation and effect the mood of their employees, too. One's mood is contagious. Good leaders have a catalytic, positive effect on the people around them. Put simply, positive leaders equal positive teams equal best possible performance. So, it is important as leaders to take personal responsibility for your physical and mental wellbeing and project optimism. Of course, the opposite is true as well, and can be extremely damaging. If you look at your team and see a loss of interest, exhaustion, disengagement, defensiveness, or anxiety – look carefully at yourself as a leader. What have you (or the company) done to put them in this state of mind, and what are you going to do to support and help turn them around?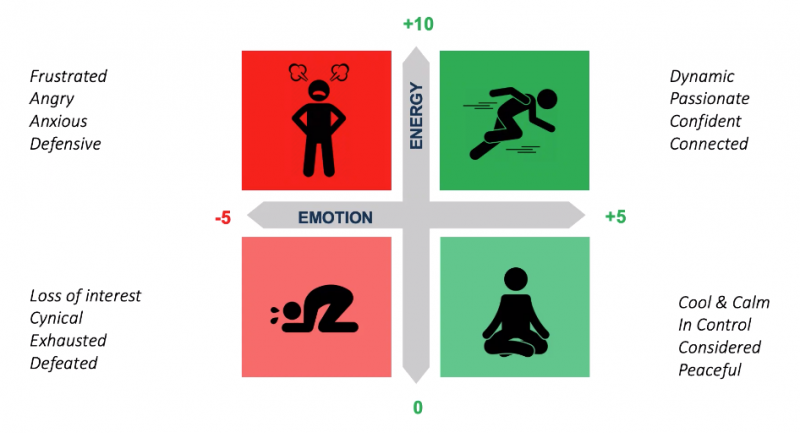 Source: Metris Leadership
Top Tips
A few tips for maintaining peak energy, engagement and motivation:
Look after yourself so that you are fit and able to look after others – number one priority, get plenty of sleep. Exercise, eat with good nutrition in mind, and keep hydrated.
Provide that supportive environment – being able to transmit belief that someone is able to take on a task is so important. Sometimes, belief from an external source is all that someone needs to get motivated and properly committed to a project. Great teachers do this, as do great leaders.
Recognise that one's mood and mental health are all-important during times of change – continue to show flexibility and focus on individual wellbeing. Encourage employees to take breaks during the day to focus on a little self-care, or something other than work, to avoid burnout.
Use technology to support communication, but do not allow it to dominate. Avoid over-scheduling and bombarding employees with back-to-back online meetings. Be clear about boundaries, what expectations there are about meetings and when they need to take place.
The single biggest problem in communication is the illusion that it has taken place – Put extraordinary effort into ensuring that people know the critical role they play within the organisation and the levers they need to pull in order to align with company goals. Think about what people have taken away from your communication efforts – is it what you intended them to take away? Be clear, concise and consistent in conveying your messages, and it goes without saying, honest and open, too. Keep everyone in the loop throughout. If you are uncertain about something, say you are uncertain. Recognise and label uncertainty, do not stay silent because people are likely to fill the vacuum with worry and negative thoughts. Maintain a regular rhythm of communication to ensure everyone feels connection with the team and to the organisation.
Distil the essence of the work you do. A higher purpose is important for motivation and engagement, so make sure people understand why they are doing what they do. Also, employees want to see companies doing the right thing for society. ESG is increasingly important, not just for the benefits it might offer society and the environment, but also for employee engagement and for attracting the best talent.
Maintain social activities – Create opportunities to have fun with your team. Arrange get togethers, birthday celebrations and so on – continue all events that would happen in a physical environment.
The Buddy / Buddy System – Remember it isn't only about you as a leader, there is a responsibility for employees to be good team members as well. Encourage them to keep an eye out for one another, notice if someone's energy is flagging and offer a helping hand.
Panel Bios:
Rebecca Stephens (Chair) was the first British woman to climb Mt Everest and the Seven Summits. She is a writer, lecturer and executive coach, specialising in leadership, professional and team performance, influencing skills, and resilience. Her book titles include The Seven Summits of Success, a business book on leadership, co-written with business writer Robert Heller.
Dan Phelan is a Board Director of TE Connectivity and Indivior PLC, as well as an advisor with the GLG Institute. Prior to this, Dan was at GlaxoSmithKline for 31 years, where he was advisor to three chief executives, member of the Corporate Executive Team, Chief of Staff and Senior Vice-President Human Resources. In his early career, Dan served as an officer on active duty and the reserves in the U.S. Army Medical Service Corps.
Dan Simmons served in the Army for 16 years, in both the Princess of Wales' Royal Regiment and the Special Air Service. He also served on the Directing Staff at the Royal Military Academy Sandhurst and the Army Staff College and spent two years in the MOD, representing Special Forces at COBR. He is now managing director of the consultancy firm, Metris, which specialises in leadership development and helping organizations build high performance teams.
Paul Heugh, founder and CEO of Skarbek Associates. Paul was previously Vice President, Global Strategic Projects for GlaxoSmithKline, sitting on the leadership team of the Global Consumer Healthcare business. Paul is a recognised expert in both the execution of major programmes and in building the leadership and project management capability to deliver them. He has also developed world-class training programmes in project management and leadership, training several thousand people across the globe.
–  To request a full copy of the recording, please email enquiries@skarbekassociates.com –